Our Mission:
The mission of the Agape Angelicum Nursing Assisting/Home Health Aide Program is to provide quality, diverse learning experiences and to develop highly competent, skilled, safe, and knowledgeable, honest and caring Nursing Aides, Home Health Aide Companion Aide, Primary Care provider.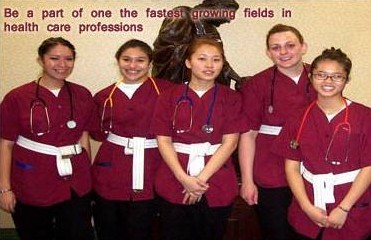 We Offer:
Personalized Teaching Methods, Day, Afternoon and Evening Classes Available, Individual Review, and Practice available upon request On site Colorado Board Exam, Our Instructor have high record for student success and passing rate for board exam.
Approved by: Colorado Board of Nursing
Pearson VUE Nurse Aide Registry Services:
Pearson VUE delivers millions of high-stakes tests a year across the globe for clients in the licensure, certification, academic admissions, regulatory, and government testing service markets. It boasts the world's leading test center network, with over 5,000 test centers in 165 countries, 230 of which are fully-owned and -operated Pearson Professional Centers. Pearson Professional Centers utilize a patent-winning design, which was created specifically for high-stakes testing and offers a carefully controlled, consistent testing environment.
Teaching a new Generation
of CNAs to Care......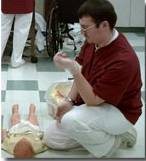 ****************************************************
Family Members:
Become a certified nurse aide and potentially be paid by Medicaid to take care of your loved ones.
Gentle words, a kind look; a good natured smile can work wonders, and accomplish a miracle. Paffoua.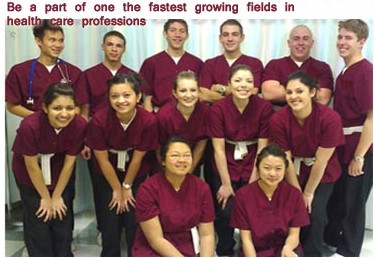 Dream of being a part of the healthcare field?
Start as Certified Nursing Aide (CNA) which requires the completion of 80 hour short study/training program and passing the Nurse Aide exam. The opportunities have never been better for individuals interested in health careers.
There is rising demand for health care services and this creates new stable career opportunities in health care professions. The advantage of being a CNA is that they may require only a short study/training program to be certified. CNAs job are in demand (meaning having jobs wherever/whenever).
What is a CNA?
A Certified Nursing Aide (CNA) works under the supervision of nurses and doctors in hospitals, clinics, long term and other nursing care facilities. The CNA provide direct care to patients.
CNAs play a very important role in the day to day basic care of patients at clinics, nursing homes, long term care facilities and hospitals. CNAs provide basic patient care. The Agape Angelicum School of Nursing Arts instructors train our student to be confident Certified Nurse Aide.
Certified Nurse Aide (CNA) Job Description
The nursing industry is enticing career for caring individuals. Many choose to start their careers by becoming a nursing assistant or nurse aide. This is a great way to get started in the nursing profession.
Nurse Aides, also known as: * Nursing Assistants
Nurse Aide perform health care tasks under the supervision of nursing and medical staff:
* Takes Vital signs: temperatures, pulse, respiration, and blood pressure, * Helps patients get in and out of bed and walk, * Escort patients to operating and examining rooms, * Keep patients' rooms neat, * Set up equipment, store and move supplies, * Assist with some procedures, * Aides observe patients' physical, mental, and emotional conditions and report any change to the nursing or medical staff, * Provide skin care to patients, Care includes helping move patients, grooming, feeding, bathing, bed making, and many more.